ALTERYX – One Platform that Unifies Analytics, Data Science, and Process Automation
Unifying Analytics + Data Science + Process Automation
The Alteryx Analytic Process Automation (APA) Platform delivers end-to-end automation of analytics, machine learning, and data science processes; enabling the agility needed to accelerate digital transformation. With the Alteryx APA Platform you can automate processes, embed intelligent decisioning, and power your people to deliver faster, better business outcomes.

An End-To-End Platform From Inputs To Insights To Outcomes
APA places business outcomes first. Users start with the business case and can quickly create analytics, data science, and process automation outcomes, without requiring any specialized skillset. The resulting impact of APA is faster business results, fully automated business processes, and the ability to rapidly upskill and make an impact.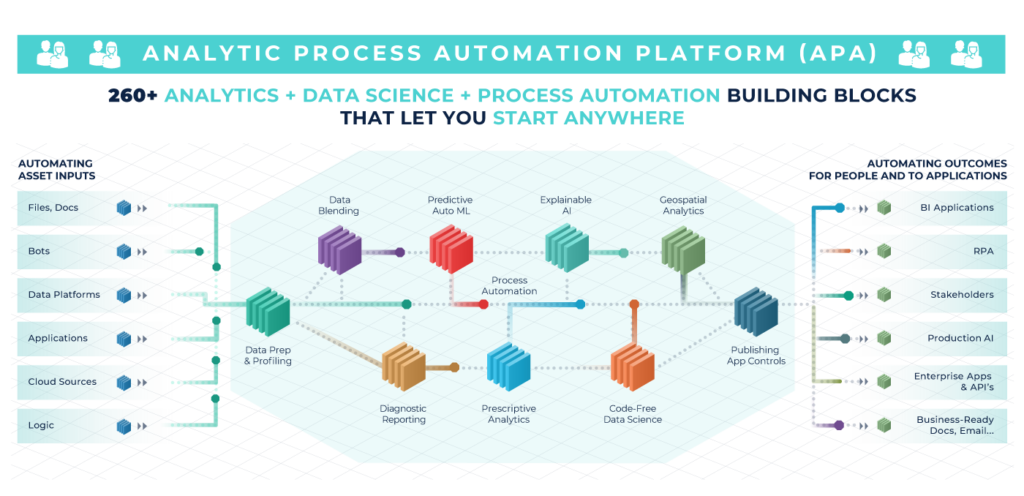 Experience The Thrill of Solving
For many analysts throughout marketing, sales, finance, or customer insight, the process involved in prepping, blending, and analyzing data is slow and painful. It requires many tools and people to gather, cleanse, and join data from different sources, then more tools to build and publish analytic – and then even more effort to get those models and insights into the hands of business decision makers.

Alteryx Designer streamlines the process by delivering a repeatable workflow for self-service data analytics, leading to deeper insights in hours, not weeks. Alteryx Designer empowers data analysts by combining data preparation, data blending, and analytics – predictive, statistical, and spatial – using the same intuitive user interface.
Cleanse, Prepare, and Blend Data
Data prep is the most crucial step in any analysis – bad data leads to bad insight. Stop wasting 80% of your time preparing data before analysis. Cleanse, prepare, and blend datasets using drag and drop tools with repeatability, so you can focus on game-changing insight, not mundane data prep.
Advanced and Predictive Analytics
Perform advanced analytics like a badass with drag-and-drop, code-free (and code-friendly) capabilities. Perform logistic regressions and build models with a full suite of advanced analytic tools. For those specific needs, our code-friendly tools help you collaborate with data scientists to package R and Python code across your analysis.
Alteryx Visualytics – Charts, Reports, Interactive Dashboards
Solving complex data problems is easier when you can see your data as it changes. See how Alteryx Visualytics instantly validates data health, quality, and statistical distribution as you work, empowering you to bring insights to life through charts, reports, and interactive dashboards.
Location Intelligence and Geo-Spatial Analytics
Transform your analysis from ordinary to extraordinary with built-in location intelligence and geo-spatial capabilities. Enrich every analysis with our ready to use Location Insights dataset from industry data sources like US Census Bureau, Experian, TomTom, and Dun & Bradstreet. Quickly and easily reveal key location, consumer, and business insights without the help of a GIS specialist.
ALTERYX Products
Alteryx Designer
Repeatable workflows for self-service data analytics
Alteryx Server
Deploy and share analytics on a scalable platform
Alteryx Connect
Collaborative data exploration platform for analytics
Alteryx Promote
Data science model production system
EXPERIENCE THE POWER OF
ALTERYX & TABLEAU
FOR YOURSELF
DELIVER DEEPER INSIGHTS IN HOURS, NOT WEEKS